Morris dancers throughout North America will gather together with their sticks, ribbons, bells, hankies, and baldrics, for music and dance in our annual May Day celebrations (this year Friday, May 1st, 2015). We dance to wake up the Sun and keep it coming back up for a whole year! Besides being a great deal of fun, does this show dedication or what?! You may have noticed that it works, too.

Be a part of it. Show up while it's dark and watch the Sun make its grand entrance. See the spectacle! Watch the magic! Cheer the dancers! Join in the celebration! Wonder why you're up at this hour! Wear whatever you want, but bring layers - it may be cold this early in the morning.

FIND A MAYDAY CELEBRATION NEAR YOU
Click on a Location or Team from the list below to get details about a specific venue


Meanwhile, taste the imagery of
Rose Blakeley's Ceremony of May



---
Note: Sunrise and event starting times can vary significantly depending on location or weather. You may need to reach a specific team's contact (squire) directly to find out more about the local schedule.
---
Up here, no one wants to dance up the sun. At 6:00 am it's way too cold, so we sleep in and THEN dance! The sun does not officially rise until after the team squire comes out of hibernation, and given her name, we'll STILL dancing up the Dawn.
This year, we' dancing up the sun on the European timetable, so it's actually Wednesday, April 30th from 6:30 pm - 7:30 pm, while our friends from Helsinki Morris (Finland), Eken Morris (Stockholm), and Jack the Rapper (Olso) bring up their sun.
For more information email squire
---
5:30 am - 7:00 am Vancouver Morris Men and Tiddley Cove Morris dance up the dawn at Sparrow Fart in Trimble Park (Trimble St and W 8th Ave) in West Point Grey
, Vancouver, BC V6R 4G9
7:00 am - Off to breakfast, then to work for them that must.
For more information email or
---
Island Thyme Morris Quicksbottom Morris
Continuing their 20+-year tradition, the Victoria sides will gather around 5:30 am at Clover Point (and here's another map), located on the Victoria waterfront along Dallas Road just east of Beacon Hill Park. See a variety of dance styles with Hollytree performing Cotswold, Island Thyme performing Northwest, and Quicksbottom performing Border. The Maypole goes up around 5:30 am and dancing will begin soon after. There's also community dancing (audience participation) and a Spiral Dance after sun-up. Feel free to gather some of the May Pole garlands and take them home. It's usually a windy affair, but on a clear morning, the view of the sun coming over Mount Baker is definitely worth it.
Afterwards, there's a potluck champagne breakfast for dancers and friends at someone's home. Let us know you're coming and we'll invite you too!
Contacts for more information (including other possible events during the day)

Island Thyme's or call 250-886-2088
Hollytree's or call 250-656-9609
Quicksbottom's or call 250-656-2920
---
5 am - dance at The Causeway
5:30am and 6:30 am - greet the departing ferry commuters at the Cove.
10 am - a Maypole dance - yes, a Maypole dance! - in front of the Library, morris dancing, and a possible appearance by the Black Lambs!
For more information, email our squire
| | |
| --- | --- |
| | Watch Bowen TV for footage of our 2008 May Day |
---
Seattle, WA with North by North West Morris, Sound and Fury Morris, The Mossyback Morris Men, and Misty City Morris
Dancers will gather about 30 minutes before sunrise (5:52 am) at Gas Works park. The entrance is located on the north side of lake Union, at 3300 Burke Ave N, Seattle WA. Dancing will be on the southern most point of the park near the water.
Don't be surprised if there's singing of May songs as well
For more information:

North by North West - email the or call Libby 206-323-7519 or Judy 206-634-2535
Sound and Fury Morris - contact us
---
Portland, OR with Bridgetown Morris Men, Iron Mountain Sword, Renegade Rose Morris, Wild Rose Garland with special guests Renaissance School of Arts and Sciences


Join us before sun up at the Pittock Mansion, 3229 NW Pittock Dr, Portland OR 97210

5:40 am - start with the Abbotts Bromley Horn Dance
5:50 am-ish - Set up and teach community / social dance
6:00 am - All Sing! - Country Life
6:00 am to 7:30 am - morris dancing until it's time to leave

9:00 am - Tanner Springs Park, NW 11th and Northrup
10:00 am - Jamison Park, NW 11th and Johnson
11:15 am to 12:30 pm - Director Park, SW Taylor and Park
Contact the individual teams for more information:

Bridgetown Morris Men: email or call Ted at 503-544-5609
Iron Mountain Sword: email
Renegade Rose Morris: email or call 503-860-6611
---
Eugene, OR with Two Rivers Morris
Welcome the sun at the Owens Memorial Rose Garden under the gazebo at dawn.
For more information, contact or call Patricia at 541-686-6117
---
Sebastopol, CA with
5:30 am - Come help Apple Tree Morris celebrate the beauty of Spring in Sonoma County as we dance up the sun on May Day in the parking lot behind the Sebastopol Community Center Youth Annex, 425 Morris Street, in Sebastopol. The dancing goes through sunrise and a little bit more (around 6:20 am), and then you are welcome to join us for a potluck breakfast at 7:00 am nearby.
There will be morris dancing to watch and country dances everyone can do, as well as wonderful music and singing. We'd love it if you'd join us for this celebration! Dress warmly, since it tends to be chilly before dawn, and you may want a lawn chair or blanket to sit on.
Directions:

From Santa Rosa and points east: Get onto Highway 12 around Sebastopol. Turn right/north at the light onto Morris Street, and park when the street turns left.
From Sebastopol: Get onto Highway 12 heading towards Santa Rosa, and at the first light outside of town (at the sign for The Barlow), turn left/north onto Morris Street and park when the street turns left.

For more information, email or call 707-823-6925


---
San Francisco, CA with Goat Hill Morris
Meet at the top of Twin Peaks around 5:45 am, in the parking lot overlooking downtown, the East Bay and (in theory) the rising sun.
Dancing starts around 6:00 am.
For EXACT directions and more information, email or call Heather at (510) 653-7507

---
Berkeley, CA with
5:00 am - Gather at Inspiration Point, high up on Wildcat Canyon Road in Tilden Regional Park. Dancing starts around 5:30 am., sunrise expected at 6:13 am. Dress warmly!
If you can't make it for sunrise, catch up with Berkeley the rest of the day:

9:45 am - The sidewalk outside La Farine Bakery (Solano and Colusa)
11:00 am - The sidewalk at Shuttuck and Vine, Berkeley
12:00 noon - UC Berkeley, North Gate, Hearst and Euclid
1:00 pm - Downtown Berkeley BART station on Shattuck at Center

For more information contact the
---
Palo Alto, CA with Deer Creek Morris Men, and Mad Molly
5:30 am to 7:00 am - Meet at the Palo Alto Baylands (take Embarcadero East from the US-101 to the end of the road, turn left, go past the airport, bear right, past the Duck Pond and the Ranger Station and park in the first lot on the left (before crossing the river).
Watch in entranced silence to the open strains of the haunting Abbots Bromley Horn Dance
Join in as everyone learns English Country or Morris dances for all. Yes! We actually teach these!
For more information contact:

Deer Creek Morris Men: email squire
Mad Molly: email squire or call 408-830-9109



---
6:00 am - Meet at the Lighthouse, 701 on West Cliff Drive (take Hwy 1, turn on Bay St. towards the ocean, go all the way to the end, then right onto West Cliff Drive - leave extra time to find parking.
7:00 am - breakfast at the Zackary's Restaurant, 819 Pacific Ave
For more information check our website or contact squire
---
Santa Barbara, CA with Pacific Sword Company and the
Bowler Boys
6:00 am to noon - pursuing our annual tradition of sleeping in.
3:30 to 4:30 pm - Revels hosts its 6th annual May Day celebration at Marshall's patio (corner of State St and Canon Perdido) with lots of spectacle and audience participation:

There will be flowers available to make garlands and headpieces.
Come join in the May Pole celebration and learn how to weave the ribbons 'round the pole.
Our song leader will lead everyone in seasonal songs and rounds.
We'll teach everyone a Circle Dance and have a demo of a Sword Dance and English Country Dance
All of this will be accompanied by our musical ensemble.

For more information, email or call Susan Keller at 805-565-9357.
---
Los Angeles, CA with Rising Phoenix Morris
5:45 am to ??? - Venice Pier: use the parking lot at the end of Washington Blvd (Ocean is the last main cross street) - in anticipation for the 6:00 am sunrise (you should be able to find a Washington off-ramp from I-405 and head west).
Breakfast is at a nearby cafe after the dancing.
For more information email squire
---
San Diego, CA with
Meet us before dawn at the top of Mount Soledad Park in La Jolla. Arrive early to hike up the hill.
5:45 am - Dance up the sun on Mount Soledad Cross on Soledad Park Road
6:30 am - Breakfast at Harry's Coffee Shop, 7545 Griard Ave, in La Jolla
Locations/Directions (directions are progressive):

Mira Mesa and I15: Take I15 South to SR163. Keep Right on to SR163. Take the SR52 exit to go West. Go straight over I5 onto La Jolla Parkway. Turn Left at the Torrey Pines Road Intersection. Go up Hidden Valley Road until it T's into Via Capri. Turn Right onto Via Capri. Wind up the mountain until that T's into Soledad Road and La Jolla Scenic Drive. Turn left onto Soledad Road and drive through the gate, if it is open, or park if it is not.
Soledad Mountain (From I5): Take Garnet West to Soledad Mountain Road. Turn Right/North on Soledad Mountain Road and go till it ends in a T. Turn Right onto La Jolla Scenic Drive. Drive into the Soledad Natural Park and look for morris dancers.
To Harry's - (from Soledad Mountain): From the park head back down Via Capri La Jolla Parkway and Torrey Pines Road. Go West on Torrey Pines Road, Left on Girard at the Von's. Harry's should be right there on your left (across from the Von's Parking lot).

For more information, email squire

---
Denver, CO with Breathless in Berthoud Border Morris, Maroon Bells Morris and Tommyknockers Children's Morris
Come see these free performances from almost the only morris dancers in the Rocky Mountain Time Zone! You can thank us now - we dance so you don't have to!
5:30 am to 6:15 am - Aquarois Trailhead in Louisville, CO. Dancing starts at 5:45 am..
For more information, email squire or call 720-352-8135
| | |
| --- | --- |
| | See their 2013 May Day flyer |
---
Due to a tear in the space-time continuum because Arizona doesn't do daylight savings time, we actually dance up the sun on Friday night, May 2. Go figure!
7:00 pm - We're (drinking and then) dancing at Phoenix's First Friday, staring at the The Lost Leaf (914 N 5th St), and then proceeding to dance in the surrounding blocks where the other First Friday events are.
For more information (including directions), email or call 480-286-2122.
---
Minneapolis, MN with Bells of the North, Gypsies, Minnesota Traditional Morris, Northern Lights, Ramsey's Braggarts, and Uptown-On-Calhoun
The Twin Cities has a joint Sun Up ceremony, located on the Mississippi Park in Minneapolis at the top of the bluff overlooking the Mississippi River in Minneapolis, where 36th Street 'T's with West River Parkway. Just follow the sound of the bells.
Most people show up between 5:30 am and 5:50 am. Abrams Circle steps off promptly at 6:02 am, just at sun up. The Abrams is open to anyone who knows the dance - no need to be active on one of the morris sides. Typically we have 100+ participants in the Abrams. After the Abrams Circle the teams continue to do mass dances interspersed with one or two show dances from each team, typically in the order of team seniority.
After Sun up, those who don't need to rush off to work join for a mass breakfast at a local restaurant. Then the teams typically split up and do guerilla dancing at various places around the Twin Cities (sometimes with two more teams, sometimes solo). As this varies from year to year there is no 'map' to the guerilla morris dancing.
About 4:30 pm the teams meet up again and dance on the outdoor Nicollet Mall and the IDS Center Plaza in Downtown Minneapolis. Finally at the end of the day, the teams retire to a local pub for dinner, ale and singing.
For additional information, email Upton's squire Don
---
Madison, WI with Oak Apple Morris
5:45am to 8:00am - dance up the sun at Picnic Point, off of University Bay Drive, followed by Maypole dancing and singing around a bonfire. We pass the winter witch for people to put their worries on, and then pass spring maiden for people to put their hopes on.
Around 8:00am - we head off to breakfast and anyone may join us.
10:30am State Street and N. Carroll Street just off the Capitol Square
11:00am Outside the Madison Children's Museum, 100 N. Hamilton Street
For more information, email squire
---
St. Louis, MO with
and The Capering Roisters
5:30am - meet at the front of the historic in Forest Park Jewel Box. All are welcome, and over the years quite a crowd has accumulated! Dancing continues for at least an hour and usually longer. Sometimes there is a Maypole, but there is always singing (song sheets provided). Breakfast follows at a mysterious location to be revealed.
For more information, email front person
---

Chicago, IL with Pullman Morris and Sword
Due to a time warp, PMS will hold May Day on Saturday May 4, 7:00 am - Dance in Arcade Park located approximately at 112th and Laurence Avenue in the Pullman neighborhood of Chicago.
Participants are invivted to an early breakfast provided by the team.
Ask about the all-inclusive Grecian Urn which involves any and all participants and spectators.
For more information, email or call 773-297-6714
---
Ann Arbor, MI with
and The Quality
5:45 am - Meet on the overlook down the high-road path from the Geddes street entrance to Nichols Arboretum. Dancing starts around 6:10 am. When that's done, we dance in the Diag in Ann Arbor, then go somewhere to breakfast and sometimes dance some more afterwards.
For details on the day's schedule other information, email squire



| | |
| --- | --- |
| | Watch a video of Ann Arbor Morris |
---
Bloomington, IN with
6:45 am - Continuing their 30 plus-year tradition, Bloomington Quarry Morris dances at sunrise at the Monroe County Courthouse in Bloomington's central square, 100 West Kirkwood Avenue.
Afterwards is a team breakfast in a secret location disclosed only to the inner cadre of the team.
Come noonish we return to the Courthouse for more dancing and another maypole, then off to a private house party.
For more information, contact or call 812-330-8975.

---
Berea, KY with Squash Beetle Morris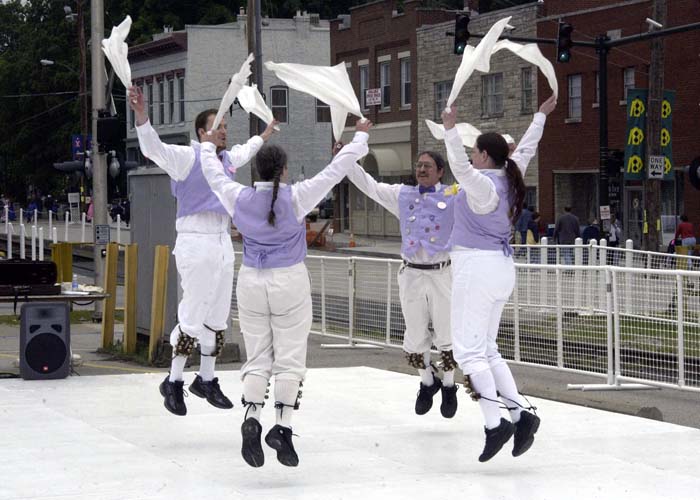 6:30am to 8:30am - in front of the Frost building on the Berea College campus (on Chestnut street, across the street from the president's house, which is clearly marked. There is a mid-block pedestrian crosswalk nearby (the only one).

Directions: there are a few parking spaces on the street right in front, but please keep those clear so people can see us dance from the street. Park half a block back. If coming from afar, you can take exit 77 off I-75, take the immediate right to get on 595 toward Berea. after 1.5 miles, go straight through light at Ellipse, and up the hill. At the next light (in front of Papaleno's) follow the road to curve to the right. At the next light, go straight, you are now on Chestnut street, find parking here, the crosswalk and maypole are 1/4 block ahead, on the right.
Morris dancing starts at dawn. There will be some English Country dances and a maypole for all to join in, and then serve hot breakfast for all.

For more information, email Squash Beetle contact
---
Toronto, ON Canada with Toronto Morris Menu, Toronto Women's Sword, Orange Peel Morris, and others
6:00 am - performance with a few other teams in the Toronto Area at High Park, across from the Grenadier restaurant. Mimosas and orange juice with strawberries are on hand.
Afterwards, head back to the house of a member of one of the teams for a pot-luck breakfast.
There is street dancing for the rest of the day, usually loosely organized at the breakfast. For more information, email
or
---
We'll be dancing at dawn at the outlook closest to the top of Monongahela Incline. Join us to watch the beautiful view of the sunrise from the bluffs of Mount Washington as we welcome in the spring! Participate in the singing and maypole dancing. Parking is available at the top of the incline (both on-street, or in the nearby paid lot at Shiloh and Virginia). Incline starts at 5:30 a.m. if you want to ride up to the dance from Station Square (Incline information).

Approximate Schedule:
6:00am to sunrise (officially 6:19 am, but in reality whenever we declare the sun to be "up" - hopefully it will be obvious!): Singing, morris dancing, and toasting the sun up.

6:30 am to 6:40 am - May Day cake and general maypole dancing.
6:40 am to 7:00 am - More dancing at singing.

We may also be doing some guerilla morris after breakfast, so watch out – you never know where we might pop up!
For more information, email
---
Norwich, VT with Green Mountain Morris, Maple Leaf Morris, Four Corners Morris, and Catamount Morris
5:30am - Dance up the sun at Thetford Green, Thetford Hill, VT. Sometimes there's a Maypole as well.
For more information, email



| | |
| --- | --- |
| | Watch Maple Leaf Morris as the sun peeks over the horizon on May Day 2010 |
---
Putney, VT with Putney Morris Men, and Putney Mountain Morris Women
Continue the 20+ year tradition of morris dancing for Mayday sunrise on the top of Putney Mountain (a 1 mile hike in from the Putney Mountain Parking lot at the top of Putney Mountain Road. Park by 5am to walk up and see dancing at 5:30am (and hopefully sunrise at 5:45am) with a crowd of 75+ onlookers (if the weather is good, 40+ if rainy/snowy).
6:45a - Dancing at the Putney Town Hall, after which the teams retire to the Putney Diner for their end-of-season breakfast.
For more information, email squires or


---
Syracuse, NY with Heartwood Morris Dancers, Bassett Street Hounds, Ribbonsteel Rapper, hosted by Thornden Morris
6:00 am to 7:30 am - Dancing at dawn, but not at our usual place. The Water tower is under construction, so we are dancing down the hille at the Thornden Park Swimming Pool in Syracuse. Dawn dancing includes a topical mummers' play, singing, and a Maypole dance for all (sequence will be taught). Coffee and morris cake will be provided. But WAIT! There's lots more details provided by the Hounds and Thornden - check it out!
9:30 am to 10 am - dancing at the New School
10:30 am to 11 am - dancing at a Montessori school
11:30 am to 12 noon - dancing at the Alf Restaurant
Morning dancing and possible evening plans are still evolving. For more information, see the flyer, or email , , or .
---
Nelson, NH with Harrisville Morris Women and Jack in the Green


5:42 am to sunrise - dancing at Memorial Field the Dublin School, Dublin, NH (please park behind our new visual arts building - Gillespie Hall on William North Road off the Harrisville Road, and walk to the upper field).
For more information email Harrisville co-squires or Jack in the Green squire .
---
Albany, NY with Pokingbrook Morris Dancers


Pokingbrook Morris has been dancing up the sun in Washington Park in Albany for over 35 years.
6:30 am ("morris dawn") - gather near the Moses statue that faces Madison Avenue, and dance for an hour or more.
Afterwards, adjourn to a local diner for breakfast, bringing many of our regular fans with us.
In the early afternoon, arrive at Universal Pathways in Berne NY, for a maypole, picnic, and more morris dancing.
Anyone who can't make it for the early morning dancing and/or wants to catch up with the tour later on should email or call 518-464-8603 and leave a message.
---
There is a private, team-only event as sunrise in an undisclosed location
11:00 am - Great Barrington Rudolf Steiner School on Pumpkin Hollow Road in Great Barrington. A self-catered lawn picnic after the dancing is always part of the school event
For more information, email
---
Amherst (area), MA with Juggler Meadow Morris Men, Johnny Jump Ups, Hart's Brook Garland, Morning Glories, Marlboro Morris Men, Wake Robin Morris, Rapscallion Rapper


Wake Robin Morris Rapscallion Rapper
Dancing the sun up:

Hart's Brook, Juggler Meadow, Johhny Jump Ups and Morning Glories at the Shutesbury common.
Marlboro Morris Men, Poets Seat in Greenfield
Wake Robin Morris, on top of Mt. Pollux in So. Amherst, followed by breakfast

For more information on

Hart's Brook, email
Wake Robin Morris, email their
---
Boston, MA with Newtowne Morris Men and the Country Dance Society - Boston Center hosting Red Herring Morris, Muddy River Morris, Banbury Cross Morris, Mulberry Morris, HopBrook Morris, Ha'Penny Morris, Commonwealth Morris Men, Great Meadows Morris, and associated other rapper sides.

Newtowne Morris Men Red Herring Muddy River Banbury Cross

Ha'Penny Morris Commonwealth Morris Men Great Meadows Morris
This May Day celebration has been annually going on since 1973. It may be the oldest continuing May Day celebration in the USA.
5:30 am - the Weeks Footbridge going over the Charles River in Cambridge by Boyleston St. There will be a Maypole, Morris dancing, Garland dancing, some folk dance and much singing. This is a community event. Everybody joins in the Maypole, the dancing and the singing. Hundreds of people usually show up.
Wax nostalgic and get the feeling of a May Day past.
For more information, email Newtowne's squire -


---
Narragansett, RI with Ladies of the Rolling Pin
5:40 am - dance at dawn at Narragansett Town beach near the Towers. There's a lovely potluck breakfast after dancing.
1:00 pm - dancing at the Fairy Festival at Blithewold Gardens and Mansion
For more information, email
---
New London, CT with Westerly Morris Men
5:30 am - meet to dance at Connecticut College located on Route ew north of Route 95, in in New London, CT on the main college green (Tempel Green) in front of Blaustein Humanities Center
For more information, email or see their flyer
---
New Haven, CT with New Haven Morris and Sword
5:40 am to 6:45 am - Edgerton Park in New Haven, corner of Whitney Avenue and Cliff Street. If that entrance is closed, try the gate on Edgehill Road opposite Edgehill Terrace. We dance on the Great Lawn in the center of the park.
We plan to dance at 5:30 pm on Cross Campus at Yale, in front of Sterling Library.
For more information, email squire


---

Grand Rapids, MI with Bells of River City
6:00 am - Heartside Park
6:45 am - Pearl Street Big Boy
8:00 am - Fish ladder and/or bridges
8:30 am-ish - Grand Rapids Home for Veterans, 3000 Monroe Ave. NW
11:00 am - Georgetown Manor, 141 Port Sheldon St SW, Grandville, MI
For more information, email co-squires or



| | |
| --- | --- |
| | Watch a video of Bells of River City May Day 2009 |



---
Brooklyn, NY with Ring O'Bells
The May Pole is an all-inclusive, multi-generational event. All are welcome.
5:45 am - Nellie's Lawn in Prospect Park (meet at the Grand Army Plaza entrance to the park).
6:00 am - Maypole time - dig the hole, get the pole, make the ribbons!
6:45 am - Grab a ribbon and join the dance. People are invited to bring a short reading on a spring theme (baby animals has been a traditional mention) if they would like to read something aloud after the May Pole dance.
7:15 am - Potluck picnic breakfast and Morris dancing.
For more information, email then


---
6:15 am - Meet at 79th and Riverside Drive (in Riverside Park) for an hour of dancing followed by the annual team breakfast at "Jessica's".
For more information, email



| | |
| --- | --- |
| | Watch a video of Bouwerie Boys in action! |
---
Princeton, NJ May Day Celebrations Organized for 30+ years by Millstone River Morris, with guests Stony Brook Morris, Handsome Molly, Mercer Maypole Dancers, Singers, & Padstow Hobby Horse Troupe

5:40 am to around 7:00 am - dawn performance on the site of the Mercer Oak in Princeton Battlefield State Park. Participattory May Pole and English Country Dancing for all!
7:00 am - dance go off to Breakfast Feast.
Performances in local schools (closed to public).
10:30 am – performance outside the University Chapel, and other Princeton University locations.
12:00 noon – performance at The Albert Hinds Plaza, Princeton Public Library, 65 Witherspoon Street, Princeton.
2:00 pm - more performances in area schools (closed to public).
Late afternoon singing and consumption of Bass Ale (or ice cream as age appropriate) - contact for this year's location.
For more information, email or call 609-240-6543

---
Philadelphia, PA with Kingsessing Morris and Renegade Morris
---
Washington, DC with Foggy Bottom Morris Men hosting Rock Creek Morris Women, Arlington Northwest Morris Women and Charm City Sword
6:00 am to 7:00 am - Dance at the gazebo on the corner of Carroll and Westmoreland in Takoma Park, MD (just a hair north of the DC line) regardless of what day of the week it is for about an hour. Directions: Red line metro to Takoma station, walk north on Carroll .3 miles to gazebo.
7:00 am to 9:00 am - Team breakfast for morris dancers only. Out-of-towners contact the teams.
9:15 am to 10:15 am - More dancing in Takoma Park downtown near "Roscoe the Rooster"
11:00 am to 12:30 pm - Dancing and food truck lunch at Farragut Square, Washington DC
12:45 pm to 1:45 pm - More dancing at McPherson Square, Washington DC
2:00 pm to 3:00 pm - Beer and snacks, Maddy's Taproom, corner of 13th and L Streets, Washington DC NW
3:15 pm - 4:00 pm - Final dance-out for those who can still stand up, Franklin Park, 14th St NW between I and K Streets downtown.
For more information, email

Foggy Bottom's
Arlington's



---
| | |
| --- | --- |
| Charlottesville, VA with Kalidescope Rapper and Albemarle Morris Men (with a possible guest appearance by Underground Morris) | Albemarle Morris Men |
Start dancing at sunrise - Lee Park, one block north of the Downtown Mall in Charlottesville (there is no off-street parking). There are usually muffins and hard boiled eggs available. Feel free to bring your own coffee or treats (although it's luckier if you bring enough for the dancers, too!)
For more information, email Kalidescope squire


---
Yorktown, VA with Flying Bark Morris
Sunrise at Felgate's Creek, Yorktown VA (on the Colonial Parkway)
For more information, email
---
Asheville, NC with Asheville Morris Men and Ashgrove Garland


As part of the Asheville May Day celebration, the teams tours downtown, ending at Pritchard Park. Public participation Maypole to end the tour followed presentation at English Country Dance at the Asheville Arts Center at 4p
For more information, email or call 1-828-333-4272
---
Gainsville, FL with
Check out our May Day Tour map
06:45 am Sunrise - dancing, maypole, and Mayday Flower boat race at Baughman Center on UF's Lake Alice next to the alligators (placemark A on the map).
08:00 am to 09:00 am - Grandy's Restaurant, (placemark B on the map).
09:30 am to 10:30 am - Devil's Millhopper sinkhole, pilgrimage to the bottom of the 120-foot deep sinkhole and dancing on the boardwalk at the bottom (placemark C on the map).
For more information, email squire
---
What IS Morris Dancing?
Morris dancing is a living tradition of English celebratory and ritual dance with live music, and origins shrouded in mystery and the mists of time. Shakespeare used it in his plays and it was old then. The dancers usually wear bells at their knees and often wave hankies (to attract and welcome benevolent spring and summer spirits) or clash sticks (symbolizing the eternal battle between winter and summer), and the dances have traditionally been performed around the time of major celebration or seasonal cross points in the calendar. Indeed, dances of comparable form and dancers in similar costumes are found elsewhere in Europe and around the world, and may be thought to be part of the universal urge to influence and honor the unknowable forces which govern our lives.

One of the most colourful descriptions of morris was provided in the 15th century, by Edmund, Duke of Edinburgh, the Black Adder who said, "Morris dancing is the most fatuous, tenth-rate entertainment ever devised by man. Fourty effeminate blacksmiths waving bits of cloth they've just wiped their noses on. How it's still going on in this day and age I'll never know."

Modern morris includes several different types of dance, all from different regions of England; Cotswold Morris from the south, Border Morris from the west, Molly Dancing from the southeast, and Northwest Morris from the northwest. Other dance styles such as Longsword, Rapper (sword), Clog, and Garland are often included in the term "morris".

There are lots of ways to get more detail about Morris dancing, but the absolutely best way is to find a morris dancer, take them to a pub, offer them refreshment, and ask for the real story. It's guaranteed good luck, too!
---
Morris team logos copyright the respective teams, used with permission
Last update March 31, 2015
All rights reserved. Do not cite or reproduce without permission, except for personal use.
For any questions/complaints/suggestions about this page, contact the